Notations

The ASHBY CONCERT BAND NEWSLETTER - SPRING 2014

"Making music at the heart of the East Midlands"
Notes from the Director of Music
Once again we are looking forward to another exciting year of music making. This year the emphasis is on classical music. We are planning a series of concerts containing some of the best known and most loved classical pieces from across the classical spectrum.

We are delighted to have been invited to perform the Opening Concert at the 2014 Ashby Arts Festival. The concert takes place on Saturday 17th May and we are planning an evening of the very best of music from the city of 'The Waltz King' - Vienna.

Obviously no concert of waltz music would be complete without the music of Johann Strauss II, but we will also be including music by Lehar, Shostokovich and others.
We will be giving a repeat performance of the concert on Saturday 5th July but this time in our much loved venue, The Palace, at Ibstock. Our good friends at The Palace are planning on decorating the hall in the style of the Musikverein, Golden Hall in Vienna for the annual New Year's Day concert broadcast each year by the BBC. All being well it will be a spectacular evening of music and maybe even dance!
On Saturday 11th October we will be performing a concert of classical music at St. Helen's Church in Ashby de la Zouch, to help them raise much needed funds to restore and modernise the church cottages which are used for a variety of church related functions and activities.
The programme of music will include a number of really well known classical pieces including Finlandia (Sibelius), The Light Cavalry (Suppé), The Triumphal March from Aida (Verdi), Procession of the Nobles (Rimsky Korsakov) and Pomp & Circumstance March No. 4 (Elgar). There will also be some solo instrument pieces like the beautiful Marcello Oboe Concerto, but I'll give more details about all of that in our Autumn Newsletter.
At the beginning of November our thoughts once again turn to Remembrance and we will be performing our customary annual Poppy Appeal concert, once again supported by The Seaforth Highlanders. This year marks the 100th Anniversary of the outbreak of the First World War. For many this is a difficult anniversary because there is little if anything to celebrate, but much still to remember and reflect upon. We are planning a concert which we hope will reflect the mood of the occasion whilst at the same time providing a great evening of music and entertainment, and most of all raising much needed funds to support the wonderful work of the Royal British Legion.
Finally we round out the year with our annual Christmas Concert, which I'm assured by our Director of Music - that would be me! - will be a fantastic evening of Christmas-mania!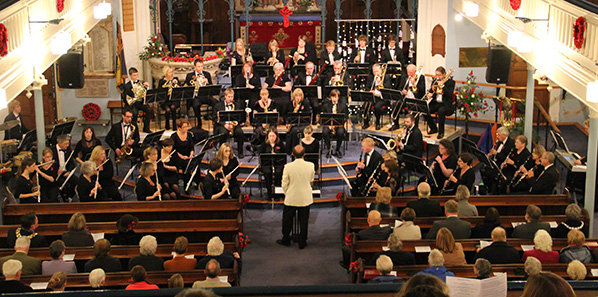 ACB performing a concert of music from the musicals.
Poppy Appeal Concert - November 2013

As so much of the music this year is linked with the city of Vienna I thought I might take this opportunity to tell you something about the history of Viennese music and introduce you to some of the composers whose works we will be performing.
Johann Strauss the Younger (Strauss II) has a good claim to the title 'The World's Most Popular Composer' and his Blue Danube Waltz, which he wrote in 1867, has a claim to be the best known piece of music ever written. Whether it is the best loved is another matter - especially in the city of 'The Waltz King', where it is played unceasingly day and night in every hotel, restaurant and cafe.
The Strauss Family Story- filmed, televised, turned into an operetta - is that of the Viennese Waltz but it was Johann II who was the inspired composer, able conductor and sharp businessman, whose work stands head and shoulders above the accomplishments of his father and brothers.
Johann II's grandfather was a humble innkeeper on the outskirts of Vienna who committed suicide after his second marriage; Johann I developed a love of music from the itinerant musicians who performed at his father's inn. Johann I was so taken with the music that surrounded him he set about learning to play violin with a will. Within a year he was playing violin in an orchestra where he met and befriended the violinist Josef Lanner, and joined him when he set up his own orchestra. So successful was the venture they decided to run two orchestras - Lanner conducting one, and Strauss conducting the other.
Aside from conducting and playing the violin Johann I had six children by his wife Anna: Johann II, Josef, Nelli, Therese, Eduard and Ferdinand (who died at the age of six months). He also had five illegitimate children by his mistress Emilie Trampusch and eventually left his family to live with her. With him went the opposition that had been put in the way of Johann II's musical ambitions. Although Anna had openly encouraged Johann II's musical aspirations his father Johann I had whipped him on one occasion when he found him playing the violin.

Johann II had assembled his first orchestra by the age of nineteen making his debut in 1844. His success was instantaneous. The headline in a Viennese paper read, 'Good night, Lanner. Good evening, Father Strauss. Good morning, Son Strauss'.

The two family Strauss orchestras ran in open rivalry with each other until 1849 when Johann I contracted scarlet fever from one of his illegitimate children and was found in his apartment dead, naked and abandoned by his mistress. She had taken her children and all of her possessions and vanished off the face of the earth!
Johann II now combined both orchestras and for the rest of his life enjoyed fabulous success. Eventually he ran six orchestras simultaneously. On one occasion he was paid $100,000 to conduct The Blue Danube in America over fourteen performances; at another concert he conducted a choir of 20,000 in front of an audience of a hundred thousand. Johann was a prolific composer notching up 400 waltzes, and 300 assorted polkas, galops, marches and other dances. (You might like to know that a 'galop' or 'galopade' is a 19th century ballroom round dance in simple duple time, with a change of step, or hop, at the end of every musical phrase). As for Johann I the only work that he penned which remains in the Viennese repertoire is the famous Radetzky March, composed a year before his death.
Richard Strauss (no relation at all) once wrote of Johann II: "Of all the God-given dispensers of joy, Johann II is the most endearing". We certainly hope that you will enjoy the music of Vienna at our forthcoming concerts in May and July. Along with the Strauss composers we will also be playing works by Lehar, Shostokovich and many others. And not only will it be a musical spectacular! We have great plans to impress with our attire - marcella and satin should be in abundance! Let's face it - everyone likes an opportunity to dress up.

For this edition of Notations we have decided to turn the spotlight onto another one of our saxophone players –Edward Cureton.

Edward is Ashby born and bred and attended the local schools. His interest in music was awakened early on in life as his mother was a music teacher and still gives piano lessons in the vicinity. It was therefore no surprise that Ed was drawn to the piano and began tinkering the ivories at an early age. By the age of six he had passed with distinction his Grade 1. The long haul up to gaining Grade 8 piano was achieved when he was 17 years old.

In the meantime, a friend gave him a trumpet, which he pursued up to Grade 5, but he never seemed to have enough puff! He was offered a saxophone and within 2 years he had gained another Grade 8. Many a time, Ed considers taking up the trumpet again and you never know, one day he might dust it down and have another go!
Ed was in the jazz band at Loughborough School and when he moved on to Swansea University, to study German, he joined the jazz band there, as well as a choir, which he enjoyed immensely. He performed in concerts in various venues in and around Swansea. Ed spent a year studying in Germany where he played in a couple of concerts.
Ed now works in Tamworth in the sales office of a local builders merchants, so very far removed from his interests in music and languages, but he enjoys the variety of work and the people he meets.
Outside of music, his interests are sport, especially tennis and football.

The soprano saxophone is the smallest of the commonly used saxophones.

The soprano saxophone can be compared to the Bb clarinet. Due to the smaller bore of the soprano, it is less forgiving with respect to intonation, though an experienced player will use alternate fingerings or vary breath support, tongue position, or embouchure to compensate. Due to its similarity in tone to the oboe, the soprano saxophone is sometimes used as a substitute.

The soprano saxophone is mainly used as a solo instrument in classical music, though it is occasionally used as a member of an orchestra or concert band. Many solo pieces have been written for it by composers such as Villa-Lobos. As an orchestral instrument, it has been used in several compositions. It was used by Richard Strauss in his Sinfonia Domestica, and it is also used in Maurice Ravel's Boléro.
Of all of the saxophones in the entire saxophone family, the alto saxophone is the most commonly seen and played. As a student of the saxophone it is the instrument you are most likely to learn to play, probably because it is the least expensive, it's not too heavy, and it is the easiest to play in terms of intonation and tone. Providing your hands are big enough to stretch over the high register keys you will quickly be making music and aspiring to be the next Paul Desmond and itching to play Take Five - or maybe it will be Baker Street that is more your style.

With the tenor saxophone it is always used in concert bands and frequently used in the orchestral setting as well, with many classical composers calling upon its uniquely expressive sound and rich tonal quality. The list of composers who have written works for alto saxophone is considerable with the likes of Debussy, Coates, and Galzunov writing orchestral works, and Warren Barker and Frank Ticheli writing for alto saxophone and concert band.
The tenor saxophone is a standard instrument in concert bands and saxophone quartets. The tenor is sometimes used as a member of the orchestra in pieces such as Sergei Prokofiev's Romeo and Juliet and Maurice Ravel's Boléro.

The tenor saxophone became best known to the general public through its frequent use in jazz music. It was the pioneering genius of Coleman Hawkins which established it as a highly-effective melody instrument. Many prominent jazz musicians from the 1940s onwards have been tenor players with famous names like Lester Young, Stan Getz, John Coltrane, Dexter Gordon and Sonny Rollins.
The baritone saxophone is the largest and heaviest of the commonly used saxophones. There is a loop in the neck to reduce it to a practical height. The baritone sax comes in two sizes with one ranging to low A and the other to low Bb.

The baritone saxophone is used as a standard member of concert bands and saxophone quartets where it provides a rich bass tonal quality.

It has also been occasionally called for in orchestral music, include Béla Bartók's The Wooden Prince ballet music, Charles Ives' Symphony No. 4, and Gershwin's Rhapsody in Blue and An American in Paris.

17th May 2014

Ashby Arts Festival Opening Concert - Holy Trinity Church - 7.00 p.m.

A concert of the music of Vienna, featuring works by Johann Strauss II, Lehar, Shostokovich, and many others.

5th July 2014

Viennese Evening - The Palace, Ibstock - 7.30 p.m.

A Viennese Concert featuring the best of the music of 'The Waltz City' - Vienna.

11th October 2014

Classical Concert - St. Helen's Church - Ashby de la Zouch - 7.30 p.m.

An evening of popular classical music à la Classic FM.
Supporters Acknowledgements
Ashby Concert Band is especially grateful for the continued and extended support of our Patrons:
Mrs M Tuckey
Mr & Mrs K Spencer
Mrs M Ross
Joan Hardwick
Kay Stephens
Alan Tricker
Mr J Towers

Mr H K Berry MBE & Mrs C Berry
Mr & Mrs J Backhouse
Mr Derek & Mrs Teresa Hayes
Mr & Mrs D Thompson
Richard & Sharon Tapping
Mr A Holland
Diane & Steve Sinfield
and for the assistance given to the band by Johnson, Murkett & Hurst, Accountants of Ashby de la Zouch.