Notes from the Director of Music

On the 8th October Ashby Concert Band will perform a concert of music to celebrate twenty years of making music at the heart of the East Midlands. The concert programme has been essentially chosen by the members of the band and represents their favourite pieces from the band's light classical repertoire. Along with many established favourites there will also be a number of pieces we will be performing for the very first time. All in all it promises to be an evening of exceptional music.




Amongst the favourite pieces chosen by band members are 'The English Folk Song Suite' by Ralph Vaughan Williams; this popular piece is played frequently on Classic FM and features no fewer than ten well known folk songs. Whilst on the folk song theme we will also be playing 'Variations on Scarborough Fair' arranged by Calvin Custer and 'Suo Gan', arranged by yours truly.

Another all time favourite of band members is the beautiful 'Vilia' from "The Merry Widow" written by Franz Lehar. We will also be playing 'Danse Bacchanale' from "Samson and Delilah" by Saint-Saens, the 'Sleeping Beauty Waltz' by Tchaikovsky and the 'Waltz No. 2' from the "2nd Suite for Jazz Orchestra" by Dmitri Shostakovich. All of the pieces feature highly in the Classic FM Hall of Fame.

Ashby Concert Band - Ibstock May 2016

Whenever possible we are always keen to feature new pieces not played before by the band and for this anniversary concert we have no fewer than four first time performances. The March from the 1st Suite for Variety Orchestra by Shostakovich is one of those maddening pieces that everyone has heard but you can never quite remember the title. Returning to Saint-Saens our 1st French Horn player, Nikki Styles, will be playing an arrangement of 'The Swan' from "Carnival of the Animals". Another fun piece, the 'Polka' from the "The Bartered Bride" by Smetana will, I am sure, get everyone stamping their feet and clapping.

Our final first time performance is highlights from The Seville Suite by Bill Whelan. If you enjoy Irish Dancing and Riverdance then you are going to love this piece. Cleverly and thoughtfully arranged for concert band by Johan de Meij this fifteen minute piece features not only the usual instruments found in a concert band but also the orchestral harp and the accordion.

All of the pieces I have itemised above represent in themselves a great concert programme, however, as Director of Music I get to choose my all time favourite as well. I am delighted that the band will be performing one of the best original pieces ever written for concert band, namely 'Charivari' by Malcolm Binney. This is an exceptional piece of music with some beautiful, haunting melodies and great opportunities to demonstrate the full dynamic potential of the band. We last performed this piece in Pithiviers in 2012, however, this will be the first performance at our home venue of Holy Trinity.

With such a great programme of music it promises to be an exceptional evening of entertainment and a wonderful opportunity to celebrate with our friends, supporters and patrons the great contribution Ashby Concert Band makes to keeping music live in our community. I look forward to seeing you all on the 8th October!

Elmer - The Dark Knight (with an imposter!)
Ashby Rotary - Air Ambulance Concert
July 2016

Portrait of a Player :

Adrian and Jackie Ashton



In recognition of our 20th Anniversary year we thought it would be appropriate to feature two of our longest standing members in our 'Portrait of a Player' for this edition of Notations. These two members have been at the very core of music making in Ashby Concert Band since it was established way back in 1996, and they are husband and wife duo Jackie and Adrian Ashton.




Jackie joined ACB in September 1996 playing euphonium and since that time has rotated through most sections in the band including clarinet, saxophone and auxiliary percussion where she exhibited virtuosity on the tambourine. Jackie began her music making at the tender age of seven playing the recorder in junior school. Upon moving to senior school in Stafford Jackie was given the opportunity to share a school owned clarinet, and for a short period of time she played in the Staffordshire 2nd County Youth Orchestra. However Jackie gave up playing when the family moved to Rugby in 1970.




For three years Jackie didn't play at all and then in 1973 she met Adrian at a party. She recalls he was dressed in a hideous black shirt embroidered in purple and outrageously flared trousers! Despite that it was love at first sight (haha), she fell under the influence of his piano playing and was moved to buy a clarinet. With a tame piano player to hand Jackie went on to take grade after grade on the clarinet.

By the time the Ashton family moved to Melbourne in 1988 Jackie was well equipped to start teaching music as a peripatetic music teacher around the East Midlands. By this time Jackie was not only playing clarinet. The needs of the job required her to have achieved a level of competence on trumpet, trombone, euphonium, saxophone and flute. Jackie's music skills have been exploited by Ashby Concert Band where she now occupies the 2nd Bassoon seat alongside John Yardley.




Adrian also joined ACB in September 1996 playing alto saxophone, occupying the 1st Alto seat until December 1998. However, in January 1999 Adrian was asked if he would take over the vacant role of Director of Music, and the rest as they say is history.

Adrian began his music making at a very early age when he was given a beat-up, very sad accordion. Adrian would spend hour upon hour sitting in the back of his father's old, off the road, Ford Poplar playing pop songs of the day, like 'Wooden Heart' by Elvis Presley and 'Singing the Blues' by Guy Mitchell.




In the house dad would always be listening to Gilbert and Sullivan or light classical LPs, whereas mum would be more interested in music from the musicals like Camelot, The King and I, South Pacific or Oklahoma. Adrian's first LP was George Formby's Greatest Hits - they were all on one LP - not sure he never made a second!

From George Formby Adrian moved on to join the local village church choir when he was just eight years old, where he progressed to Head Chorister before moving onto the back row to sing bass. During this time Adrian learnt to play piano, being taught by the organist and choirmaster Arnold Pugh. Arnold was a great influence on Adrian especially when it came to musical interpretation. Adrian is often heard to say "if all you're going to do is play the dots on the page then don't bother - we need to communicate with our music making - every note matters".

Adrian went on to become organist and choirmaster and continued those duties until the Ashton family moved to Congleton in 1984. In 1988 Adrian and Jackie moved to Melbourne, Jackie took up teaching, Adrian took up the saxophone, and sons Ben and Daniel took up clarinet and euphonium respectively. Music was everywhere in the home - classical, popular, even ska-punk! Bands were joined - bands were left - during which time Adrian amassed a wealth of experiences, both good and bad, about concert bands, dance bands and saxophone quartets.

When Adrian has not been making music he has been out there, travelling the world, earning an honest living. Equipped with a degree in Physics Adrian spent more than 25 years working in the UK and international nuclear industry. When Adrian left the Atomic Energy Authority in 2002 - the prospect of four years in Japan without his family just didn't appeal and getting back for the Monday band rehearsal would have been really tricky - he turned his academic skills to teaching, focusing on A Level Mathematics, a job he still does today albeit on a part-time basis as he performs a poco a poco diminuendo into retirement.

With forty years of membership between them the obvious question is just how much longer will Adrian and Jackie be doing their 'musical thing' with Ashby Concert Band? Adrian's response to that question was predictable - "in the words of my mother, that's for us to know and for you to wonder about".
Anniversary Tour to North Yorkshire - June 2016
The band has undertaken several overseas tours in the past but for this special birthday year we decided to stay in the UK so that as many of the band members and their families as possible could join the tour and 90 of us descended on the small fishing port of Whitby. We stayed in The Bay Royal hotel which has a panoramic view of the coast and the Abbey on the opposite headland; unfortunately we were viewing it through thick sea mist for most of our stay but when the sun did come out it was a beautiful location.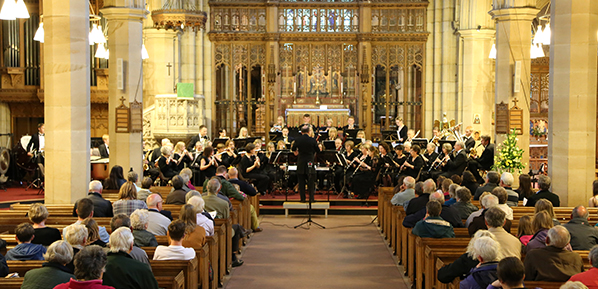 Ashby Concert Band - St. Hilda's Church, Whitby, June 2016

On the Friday evening we performed a special concert in the spectacular St Hilda's church. The concert had a film music theme and included several solo performances demonstrating the versatility of the concert band. We were fortunate to have help with publicity from the choir master at St Hilda's church and a large appreciative audience donated £579 to the local branch of the RNLI.
Saturday was spent exploring Whitby, it was a little too cold for paddling but a few brave souls tested the water while others visited the local tourist attractions and hostelries. Sunday then dawned sunny and bright and we headed to Scarborough to perform an afternoon concert in Peasholme Park. The weather was kind to the audience who enjoyed their ice creams whilst they listened to an eclectic mix of band stand favourites. The band needed our fleeces in our spot in the shade of a very large tree and were grateful for the cafe's supply of hot drinks! All in all a successful tour which band members, friends, families and audiences all enjoyed.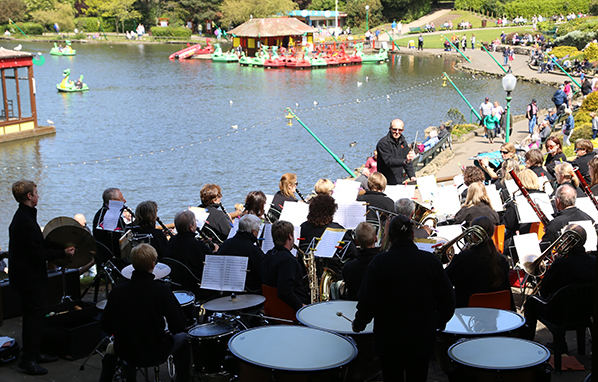 Ashby Concert Band - Peasholme Park, Scarborough, June 2016

2016 Date for your Diary
8th October

'ACB 20th Anniversary Concert' - Holy Trinity Church - Ashby - 7.30 p.m.

A concert of our favourite light classical music.

11th November

'Poppy Appeal Concert' - Holy Trinity Church - Ashby - 7.30 p.m.

A fund-raising concert on behalf of the Royal British Legion annual Poppy Appeal.

17th December

'Christmas Concert' - Holy Trinity Church - Ashby - 4.30 p.m.

ACB Christmas Extravaganza.

Supporters Acknowledgements
Ashby Concert Band is especially grateful for the continued support of our Patrons:
Mrs M Tuckey
Mr & Mrs K Spencer
Mrs M Ross
Joan Hardwick
Kay Stephens
Alan Tricker

Mr H K Berry MBE & Mrs C Berry
Mr & Mrs J Backhouse
Mr Derek & Mrs Teresa Hayes
Mr & Mrs Sowter
Mr A Holland
Mr & Mrs N Price
and for the assistance given to the band by Johnson, Murkett & Hurst, Accountants of Ashby de la Zouch.